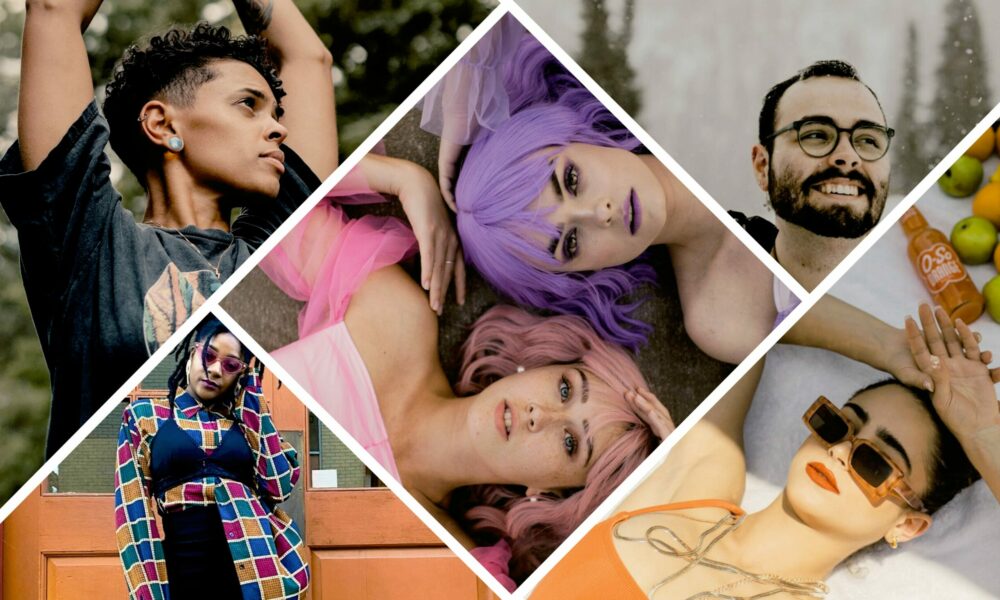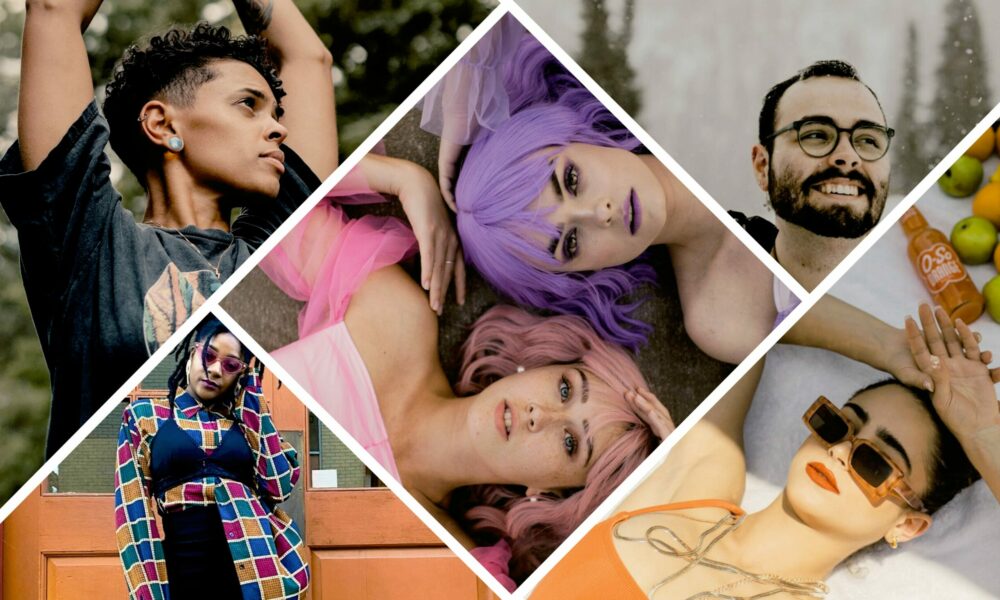 It's more important to understand someone than to judge them. We think the first step to understanding someone is asking them the fundamental questions about who they are and how they became the person they are today. Understanding and empathy are essential building blocks for a better, more compassionate world. We're incredibly fortunate to be able to ask these questions each week through our interview series. Below you'll find inspiring interviews from in and around Raleigh.
Autumn Nicholas
The younger 11yr old me thought she wanted to be a journalist. Now looking back on that, I find it funny how I was always wanting to be some storyteller…. maybe I just didn't know then that it would be through songs. It started on the back of a military Humvee, my dad hands me the guitar and says "get up there". I climb up onto a makeshift stage in 30degree weather and played the only song I had knew and had ever written. (Titled "I like you" – never released it) don't think it will ever be a bop. That's how it started. Now how I got here is a 22 years' worth of words that might not fit into this interview. Read more>>
Rebecca Wright
I always had a love for home decor but I would frequently tell myself I could make that. That is when Bee Wright Home was born. I started making all sorts of crafts and home decor then I began adding metal stamped pet tags and jewelry to my Etsy shop. The metal stamping was just a hobby that turned my life completely around! I love making those pet tags necklaces, bracelets, and whatever else is ordered! They say it's best to have a hobby, something you enjoy doing. Well, home decor and making things has always been my hobby and I finally can say that I have been able to transform that into potentially a career! Read more>>
Jordan Gibson
I've been doing some sort of video work for nearly 8 years now. I started off working in the communications department at the college I went to in PA where I really developed a passion for the field. After graduation, I started my first video production company, Mosaic East Studios. I wanted to do as much work in as many styles as I could, so I would do free videos for musicians & standup comedians and charge a hundred bucks a pop for small business videos as an opportunity to get my hands on different equipment and experiment with various styles. Turns out, that business model isn't the most feasible so I ended up accepting a full-time videographer position with a real estate firm that relocated me and my wife to the Delaware beaches. Read more>>
Rachel Wiley

I've always been interested in the creative arts. Since late middle school early high school, I have been doing friends and family's hair. Once I decided I loved it enough to make it a career, I chose to begin my education with AVEDA. About 3 weeks into the program, there was a makeup and hair competition to find new stylists to join James Ryder in L.A. to do hair and makeup for Lividity Magazine and work with some local designers. I ended up being one of the ones to go and have my work published. It was an eye-opening experience on the real beauty world. After the trip, I decided to strictly focus on hair seeing as I had such a strong passion for it. However, I still have a place in my heart for SFX and other types of makeup. After I graduated, I got my first salon job and was just thrown into the salon world. Read more>>
Rebecca Subbiah
I have been a dietitian for over 20 years, I graduated in 2001 in Scotland. I worked for a couple of years in the UK then moved to the states. I took a number of years off to raise kids during that time I did social media work and farmed. But a couple of years ago I joined a private practice and loved being back in the field this led me to start my own practice. I am passionate about whole-person health and truly supporting folks on their health journey. I love that in private practice you can give folks time to listen in a non-hurried way and allow them to feel heard and supported. Read more>>
Tanya Neely
In 2015, I dove headfirst into the world of Mary Kay Beauty. I was a beauty consultant; I hosted skincare parties and makeup tutorials to help women find what works for their beauty and skin needs. I didn't quite enjoy this position and I felt I was horrible at the business aspect. So, to make some of the money back from all the inventory I bought… I started charging $35 to give makeovers to some of my friends. Before I knew it, I was being referred to do prom makeup, wedding parties, photoshoots and etc. I was kinda thrown into this role. Ha ha. Only months later, Neely Glam Studios Makeup Artistry was created to help make women look and feel beautiful, relax and enjoy a moment to be pampered; catering to enhancing the external beauty. Read more>>
Alex Hadding
uBump is owned by Bolstered Equity Group which is a small private equity company focused on acquiring and partnering with e-commerce businesses that aim to disrupt their respective industries.  Alex Hadding, Patrick Gall, and Jordan Hadding are all partners in Bolstered Equity Group and are each co-owners in each entity owned by Bolstered Equity Group. Alex got his start in digital marketing and e-commerce sales in late 2018. Since then, and by focusing on paid advertising and omnichannel marketing, Alex and his other company, Bolstered Media, are responsible for over $60 Million in sales across internal and client brands. Read more>>
Taylor Milburn

I've been an elementary school educator for 15 years now so I've been organizing classrooms for as long as I can remember–and since I became a mom nearly 5 years ago, I've been trying to balance all the things in my life and still keep a tidy and peaceful home. I love helping think through systems and processes that make things run smoothly and efficiently so I've spent years working with friends and family in their homes and everyone always commented that I should do organizing as a side hustle to teaching. I never considered it until the pandemic happened and I realized how much joy I was finding in helping others think through their spaces even though it was only on FaceTime or through Zoom. My husband lovingly pushed me to start a Facebook page, post before and after pictures, and see what happened. One year later (hard to believe!), my business has flourished and I'm booked seven days a week working with amazing clients from all over the Triangle. Read more>>
Toni Biscardi

Hi everyone!! My name is Toni and I am the creative mind behind the soap creations! I am originally from Upstate NY and I have lived in multiple states including NC and AZ. Here are some facts about me: 
I prefer hot tea over coffee 
I love collecting new shoes and purses 
I have two grown children and 2 grandpups 
 I love going to the beach 
 My current favorite author is James Patterson  I love Rae Dunn decor and anything pink Moved back to NC from AZ and was working from home so since we couldn't go anywhere, I began researching soap creation and then started buying supplies and making soaps for friends and family, and then next thing you know when you could start attending craft shows, I began setting up and selling my soaps. Coming up with new ideas is the best part of it and helps with relaxing me. Read more>>
Cindi & Zach Honeycutt
Prior to jumping into real estate, Cindi was an elementary school teacher. She was feeling ready to try something new, though she loved working with the kids. Cindi & Zach were wanting to find a way to work together, so they both jumped into real estate. It was a scary transition, but every moment of uncertainty has paid off! We love being able to dream big for our business together! Read more>>
Sandra Myers

So where to begin? I guess you can say the profession of matchmaking chose me! I was living in South Florida and working for a telecom company. I was not excited about what I was doing at all. I had just introduced my brother to his now wife of 25 yrs. and just loved the accomplishment of putting two people together and creating a new family. I decided I would make the mundane job that I had more fun by taking my matchmaking talent to the people I was meeting during cold calls and client meetings. I wound up successfully introducing a couple that happened to know there was a dating firm looking for matchmakers. It was sheer coincidence, as I had no idea that matchmaking could be an actual career. I decided to see how my passion could potentially come with a business card and interviewed for the position. I was ecstatic to land the job doing exactly what I loved to do. That was back in 1996. Read more>>
Kitoko George

I've always had terrible acne as a child. I was bullied and didn't know how to clear it up. Makeup has been the go-to to cover up my flaws. 8 years ago, I became an Esthetician I've worked department stores, spas, and waxing centers until I wanted to step out on my own. Read more>>
Christene Vaughan
Chatham Blooms was born out of Covid quarantine and a love for watching flowers bloom. Christene is a music teacher with only minimal gardening skills who wanted to help her daughter, Danielle, a high school senior at the time, create something to earn money in her new interest–the landscape. Danielle's interest in improving the yard at home was the spark that drove Christene to figure out a way to share or sell a cut flower bouquet. Since Danielle graduated and is in college studying horticulture, she has taken a step back and is focused on her studies. Diving into great resources like books, county extension agent visits, and lots of other great tools on the web we started preparing the soil and ordering seed, bulbs, and supplies to get started. In September the greenhouse was up and by March the first bouquets were being made. Read more>>
Laurie Williams

I'm a Jersey girl born and raise from New Jersey. One day who took a leap of faith in 2011 and moved here with my Husband. To start and raise a family. In 2014 when I had my second child. That's when the dreams started to birth. Started making cakes. I decided to give up my job at the Post Office and focus on my business. That's how SWAK cakes got started. Which stands for Seal With A Kake lol. First, it started me doing cakes for church members and my Husband's coworkers. My real dreams and goals was to become a realtor and get into Real Estate. When me and my husband brought our first home. My realtor gave me the inspiration to go for it. So, 2015 I went to HPW RE school but finally received my license in August 2020 right before the pandemic started. I just celebrated my first year at Keller Williams Preferred Realty in Brier Creek Raleigh. I love being a realtor. Actually, it grew as a passion for me. I love helping people. Read more>>
Mike Nuzzolese
After my wife Joyce and I took a first-time pontoon lake tour we decided Lake Norman is where we need to be. We saw an opportunity right away. We thought if we got just 1 boat, we would make a difference if we work hard and offer people second to none customer service with included amenities. We decided to get a new pontoon and include top amenities for all clients, such as gas, a cooler of ice, bottled water, variety snack packs, water noodles, and more with every reservation. Since then, we have grown and currently own 3 pontoon boats. We continue to stay busy renting our pontoons to the fine residence of Cornelius, along with friendly neighbors and visitors of the Carolinas… Read more>>
La'Sandra Richardson

I was raised in Enfield, NC, I earned my Bachelor's Degree in Business Administration with a concentration in Marketing. I moved to the Raleigh area with my husband and daughter to advance my career in banking. It was then that my love for the triangle grew and I knew I never wanted to leave. From an early age, I always loved being around family, friends, meeting new people, and I was naturally drawn to the personal connections and social aspects involved in sales. In the early 2000s, I purchased my first home. At that moment, I saw the value of real estate investing. Although it was a small portfolio, it provided a first-hand experience for me in real estate. It was then that I was introduced to what would later become my passion. Read more>>
Brook Belden
I was raised by a young single mom who wanted more for me. She pushed a traditional path of a good education in order to get a good job which all came pretty easy for me because I liked school. I love learning and could get along well in a traditional academic setting. I went on to get my master's degree and it's probably then that things got a little sticky. Internally, as a child and throughout my 20's I had always battled wanting to do things a little bit differently with wanting to please others. It's really hard to carve your own way, though, when you are worried about disappointing people, especially those you love and admire. Read more>>
Desislava Nikolova

I came from the small country of Bulgaria for the "American Dream"!!!
 First step: I got deported from RDU airport, because of a wrong visa, didn't give up came back, and made an entrance!!!! Read more>>
Lauren Wilder
When I was younger, my friends and I would collect fashion magazines and create vision boards using clippings of our favorite pieces from the current seasons and obsess over what was hitting the fashion world. I would constantly be re-designing and rearranging my room to match whatever new season of life I was in and I spent years participating in competitive dance. All of this to say I have a long history with fashion, design, and the arts. I am not really formally trained in any of these areas (except dance) but they have been life-long passions that I have ebbed in and out my entire life. Read more>>
Berry Nash
I started out as a club promoter, but when I realized in 2013 that Raleigh didn't have many makeup artist because women weren't really wearing it, I decided to switch career paths. After receiving my master's at NCCU in the winter of 2014. I decided to take on makeup full-time. So, I went to school to get my Aesthetician license, after that I opened up my salon where I did facials, body contouring and makeup. I figured I was missing something so I went back to what I got my undergrad degree in Which was broadcast and communications but I knew I didn't want to be an anchor anymore so I focus more on photography so today I am currently a makeup and photographer in my store at triangle town Center Read more>>
Ohavia Phillips

The Oh Show LLC was birthed after my four-year career in local TV news. I was a producer – reporter on the general assignments beat. I loved my job. But I wanted more. I wanted to be in the community, I wanted more community perspective stories, I wanted to highlight the good and positive in our city and I wanted to leave our viewer with some light. In our business, we are taught "if it bleeds, it leads," and that began to weigh on me. So, after four years and covering some of the state's top headlines, I decided to quit. I wanted to pursue my dreams of creating positive media content and inspiring our communities to hear one another out. Read more>>
April Dozier
It started when I was 5 years old asking my mom if I could play in her makeup! It started when everyone was done coloring in their pictures in class and I wanted to keep going. It started in middle school when I sketched a whole notebook worth of faces with lip colors, hairstyles, and eyeshadow on them. It started in high school when I would daydream about makeup when I should have been focused on algebra. That's when my passion for creativity and makeup started. At the age of 16 I absolutely could not wait to wear makeup. I will never forget the day I applied black lip liner on my lips and topped it with gloss! HA! After years of thinking I needed to go to school for accounting and finance, I realized my heart kept leaning towards skincare and beauty. So, in 2007 I decided to take a step and attend school for esthetics learning about the skin. From there, I continued to offer makeup services as a side job for clients such as brides, business owners, non-profit organizations, etc. As the industry of makeup began to flourish the demand of clients continue to increase. So, in 2019 I did a thing and stepped away from my full-time job to pursue a full-time career in the beauty industry. Read more>>
Jennifer Smith
I have always loved baking, ever since I was a little girl baking bread with my Sitty on Sunday afternoons. Baking has always been a hobby, but soon my friends started asking me to bake cakes for their kid's birthdays, special occasions, or holidays. I moved to the Wake Forest area six years ago to take a promotion at a healthcare organization that I had been with for a long time. When I found out that Wake Tech Community College had a Baking & Pastry Arts program, I inquired about taking a few classes to enhance my skills at decorating cakes. I met with Chef Hadley at the South Campus over 4 years ago. South campus was just too far to drive in the evening with two small kids. After another year passed, I talked with Chef Hadley again about taking night classes because the Baking & Pastry Arts had moved to the new North Campus and was right down the road from my house. Read more>>
Tzu Chen
Before I became an architectural photographer, I was a licensed and practicing architect for over 15 at a local architecture firm. I've always had a passion for photography and started shooting some of my own work as the lead designer on projects.  I was fortunate to win a few local and state architecture awards for those projects. Because of it, some of my colleagues at other firms noticed my work and was hired to do photography work. for other companies. It became a side hustle for about 10 years. and about 5 years ago I decided to do architectural photography full time. Read more>>
Anna Crollman
When I was 27 years old, I was diagnosed with breast cancer. As someone who always loved reading blogs for fashion and beauty advice, I immediately looked to blogs for support during my cancer journey and came up empty. I decided to start blogging to fill that void for young women facing cancer by sharing my story and how fashion and beauty helped me navigate hair loss and the trauma of my mastectomy, chemotherapy, reconstruction, and life after cancer. Over the years my blog and social media platform grew and expanded as I evolved as a creator. I strive to inspire young women to thrive through adversity with self-confidence and style. Read more>>
Rashida Smith

I'm a single mom of 3 kids. I've always wanted to be the type of person to help the world. During all 3 of my pregnancy, I wish I had someone that understood what I was going through. Someone that could be there and inform me what to inspect during and after birth. A couple years back I wanted to become a doula but never had the opportunity. When the pandemic started that's when I realized it's time to take charge of my life and follow my dreams. So, I got my certification to become a doula and left my job. June 2020 is when I launched "Peace & Love Doula Services". I knew that I had to still provide for my kids so I started my own personal shopping business on the side as I got my doula business started. "Store to Door" was started in September 2020 and it is still up and running 'til this day. As I have 3 businesses up and trying to maintain. I want the world to know life is how you make it! You can choose to be great; you can choose to be happy, and last but not least you can do anything you put your mind to! Read more>>
Jessica Goldstein
I'm originally from Chicago, born and raised! I've always been into art and was in the art program at my high school. At the age of 16, I started my tattoo apprenticeship, with the help of Kevin (shop owner) and Nestor (my mentor). I'm extremely grateful both my parents were actually supportive and encouraging the whole way through. They both have art backgrounds so I think they were excited to see me want to utilize my art skills into a career. When I was 19 my family and I ended up moving down here to Durham, North Carolina. Shortly after, I started working at Dogstar Tattoo and really excelled there. I've gotten to meet so many great clients as well as work with amazing, talented people along the way. Before moving I had completed a year at IUPUI studying painting and I ended up studying at UNCG to get a BFA in Painting for about 2 and a half years. I was burning both ends of the candle for a while trying to balance both school and work. Kudos to everyone who does it and has done it! The first thing Kevin told me before offering me a tattoo apprenticeship was that painting is a tattooers medium. I always kept that in mind and made especially sure to pour what I learn from painting into tattooing and vice versa. Read more>>
Stephanie Barnhill Neal
I started my photography journey in 2001 with a point-and-shoot camera and a roll of black-and-white film. I was a teenager then, but I started to take photos of everything around me, mainly my peers. With a friend, I started going to Downtown Fayetteville, taking photos of abandoned alleyways, under the bridges, and the landscape. I was also taking a journalism class and that really started my interest in both of those things. Funny enough, I set photography aside as my life as an adult grew and I had a family. I worked in the arts, as an interior designer but hadn't really picked up a camera in a long time. Over the last few years, I've reignited that passion and transformed it into a career. I started doing family and boudoir photography, but I've progress as my career has grown to doing photojournalism projects and fashion shoots. I enjoy telling stories or conveying human emotions in a photo. Read more>>
Vance Blackwell
I started my working career in finance. I worked for a large multinational bank in the Greensboro area for several years. After seeing how customers were thought of as numbers instead of individuals, I decided that I enjoyed finance but I wanted to build more of a relationship with the people I helped. In my search, I found that Credit Unions were more aligned with my philosophy of treating people like family as opposed to stats on paper. I loved working with credit unions and I really enjoyed watching the financial growth and maturity of the people I was able to help. While working for credit unions as a loan officer and financial counselor, I was able to help get people on track financially, but I still felt that there was more I could do to help them over the finish line. After 12 years I wanted to switch my focus on helping people reach the ultimate goal of buying a home, planting roots within a community, and building the foundations of generational wealth. Read more>>
Cate Beard

I discovered a love for baking when I became a mom. When we started fostering our three oldest sons, I found so much joy in creating the cakes of their dreams to celebrate their birthdays. After adopting, we also had two biological sons. I received so many compliments from everyone, stating that I should bake professionally. In Fall 2020, I decided to take the big leap and begin my baking business. My business took off quickly, and it is so fun to be able to bring customers' visions to life in each creation. I have learned so much along the way, and enjoy the challenge each commission brings. Read more>>
Chad Hughes

I can never remember a time I didn't draw or paint. All during school, the art classes were the things I looked forward to the most. Whenever I could submit a creative solution to a book report or essay, I jumped at the chance. I was always encouraged by my family and luckily, they had the means to help me study with local instructors. I even took classes at the Allied Arts of Durham which would later become the Durham Arts Council. I was able to study art at East Carolina University and later at UNC-Greensboro, both of which gave me an excellent foundation for art. After leaving ECU I worked locally at jobs that would help pay bills yet give me time to explore the direction my art was taking. As a good friend, who is also an artist, it is all about the process. My work has evolved through many incarnations and continues to change as I continue to look for my voice. In 2001 I began teaching at NCCU in Durham and have had the pleasure of being introduced to many talented students. I plan on retiring in June of 2022 and relocating to Mexico where I will continue painting and drawing. Read more>>
Tonya Cowan

I have always had a strong desire to lead and empower others. Growing up a young girl in Salisbury, NC, I quickly realized that I wanted to pursue other areas of the world and somehow leave my mark. I am also referred to as "Ms. Positivi-T". As a young girl, I experienced challenges of low self-esteem, acceptance and although I had a circle of friends, I still struggled to truly love myself. Fast forward to my young adult years, I began to grow and mature in my life. I learned that I "am enough" and that I have a lot to offer to others. I learned that we all have internal struggles and thankfully, I was strong enough to overcome my struggles with the help of God and my village of family and friend support. Read more>>
Christi Lowe

I spent most of my career in front of the camera, as a TV news reporter. I have always loved meeting unique people and telling their stories in a creative, visual way. But when I married an active-duty soldier, and started a family, working the long, unpredictable news cycle didn't work for me anymore. So, my husband suggested that I take the skills I had learned over the years, and use them to help business owners tell their unique stories and grow their businesses with professional videos. I knew nothing about starting or running a business, but I jumped in headfirst, worked hard, and have enjoyed doing what I love on my time and in my way. Being an entrepreneur has been a huge learning curve, but it's been one of the biggest blessings of my life. Every day is a new adventure, and when it's all said and done, seeing my work product proudly displayed on my client's websites and social channels makes it all worth it. Oh, and let's not forget the once-in-a-lifetime opportunities that have come my way – like filming an award-winning mini-documentary in Honduras, and shooting deep inside one of the world's largest caving systems, among others. Being a creative isn't a bad gig! Read more>>
Damian Jefferson

I am a wedding and event photographer based in Fayetteville, NC. I service Raleigh, NC and surrounding areas. I have been a photographer for 15 years but taking pictures for professional for the last three. Read more>>
Michael Betzner
I started in February of 2019 after my husband and I moved to Raleigh from Michigan. I found his old camera in one of the boxes and decided to start playing around with it… once I really understood the camera and how it worked, I was in love with photography and have been practicing every day since! I focus mainly on conceptual portraiture and modeling portfolios. Read more>>
Alexandria Taylor
I am going to paste a caption I wrote on my business Instagram that tells part of my story and add more details for you. I hope that's okay! I changed career paths once because I didn't agree with what majority of the fashion industry stood for. I ended up in retail management which was a bit like wearing your best shoe and then stepping in dog poo on the way to your destination. You know that moment where you curse like a sailor and repeat are you freaking kidding me to yourself? Yeah, that was me for 3 years post-grad and then boom! The pandemic hit and forced me to bet on myself. This brand was written and planned well before Covid-19, I've been invested in vintage apparel since I was 14 however, I just would not take the chance. Read more>>
Jaclyn Pline

I attended college in Baltimore, MD for 3 years to study Floristry and General Education in case one day I wanted to broaden my horizons and maybe even get out of the flower industry. After my first floral design class I disliked it, but soon found out once you learn the Elements & Principles; that everything has a meaning, it's not so bad after all. Later, I started competing in flower shows; was recognized for winning; moved to different states, and kept putting my work out there even if it meant getting turned away. Not everyone is going to be a fan and you must be okay with that. Currently, I reside in Raleigh, NC with my husband and 2.5-month-old daughter. I do freelance and design for other flower companies along with designing a bunch of celebrations. I'm always on the move and always looking to improve, whether it be in the flower industry, my personal life, my fitness life and always challenging myself. It is not easy, it is hard work, but so rewarding! Check out more through my Instagram and Facebook page! Read more>>
Jaime Lara
As long as I can remember I have always loved fruits, and coming from a Mexican culture fruit is a big part of our lives. From having fruit at home to planning trips to Mexico based on it being fruit season it's safe to say I was a fruit enthusiast. We added Tajin Seasoning and lime to our fruits and my friends that weren't used to that flavor were in pure bliss once they tried it. I've always loved sharing new foods with people and when it came to fruit there wasn't anywhere around with fresh fruit so I decided to do it myself! With the help of Family and Friends, I decided to do my first pop-up in 2020 with two tables and a 10×10 tent. Word got around fast and before I knew it places were asking me to come set up at their locations, as a small business I was super excited to help other businesses and brands around me! Read more>>