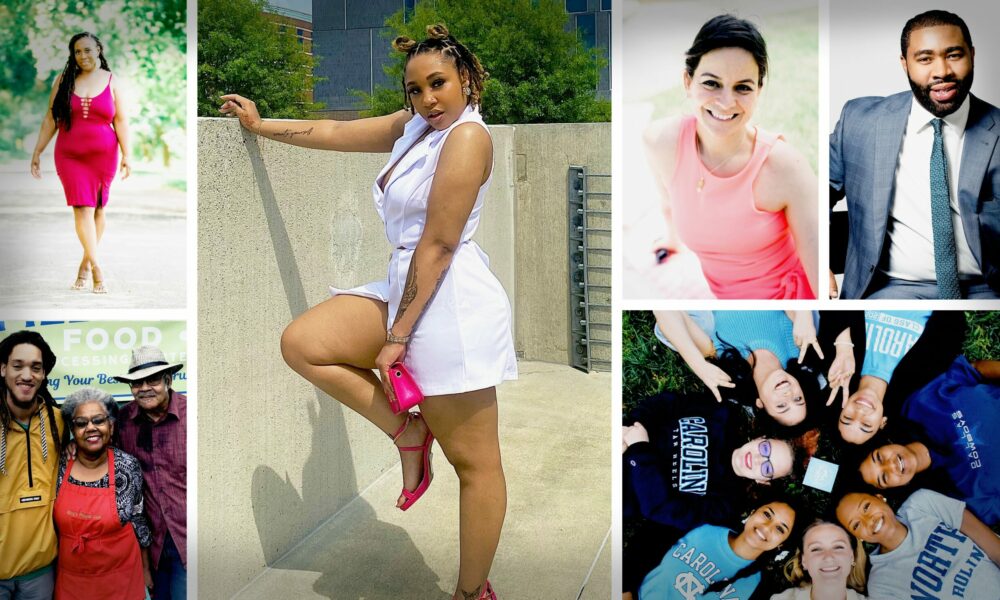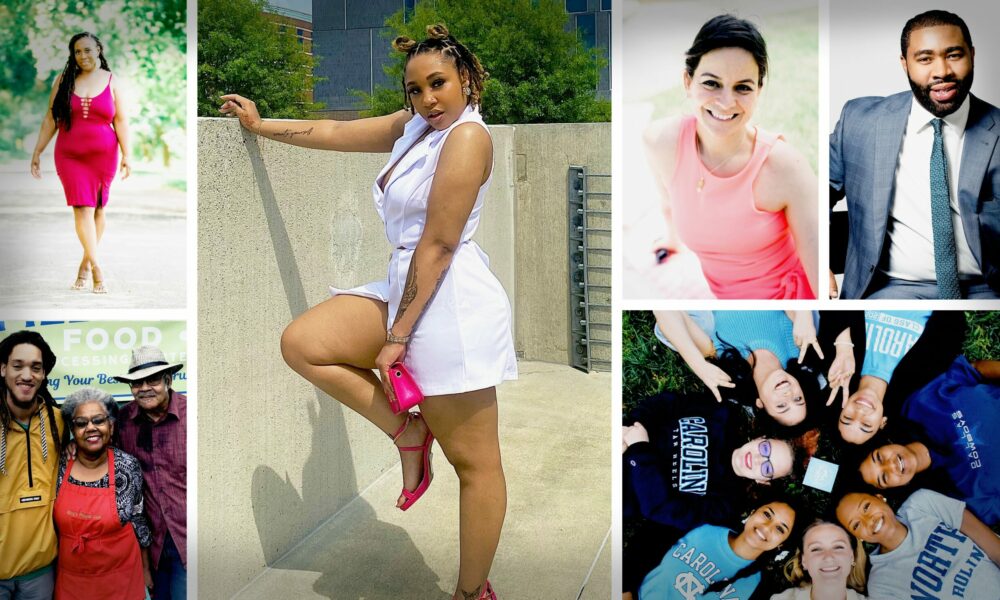 The heart of our mission is to find the amazing souls that breathe life into our communities. In the recent weeks, we've had the privilege to connect with some incredible artists, creatives, entrepreneurs and rabble rousers and we can't begin to express how impressed we are with the incredible group below. Check out our favorite stories from across the Voyage family.
Carla Payne

My dad was one of the first to receive Lithium to treat Bipolar Disorder back in 1967. I was a baby when he was diagnosed and 41 when he died. Those 41 years of my life were directly impacted by his mental and physical illness. For the last ten years of his life, I was the long distant daughter calling every day from Philadelphia, PA to my mother in Hickory, NC. How is he? How are you holding up? I did everything I could to help from a distance. Read more>>
Lindsay Reeth

My name is Lindsay Reeth and I am the Founder of Student-Made, a network of online shops customized to college campuses that feature products handmade by students! The mission of Student-Made is to offer support to students growing businesses on campus, and also to provide hands-on experience to a team of students who manage the shop on campus as well. I began Student-Made when I was a student at Elon University, with my partner Ryan McElhinney.  Read more>>
Emma Ferraro

Turtle Rescue Team was started in 1996 by our faculty advisor, Dr. Greg Lewbart, and a few veterinary students who were interested in wildlife medicine. It started with just a few turtles per year that were treated in Dr. Lewbart's lab at the CVM, and in the following years by word of mouth and especially with our emerging presence on social media, we expanded into a larger space in the hospital and began seeing hundreds of wild reptiles and amphibians each year. Read more>>
Priscila Budway

I've always had a love of flowers, the outdoors, making incredible memories, and living life to the fullest. Dining under the stars, enjoying music that moves the soul, and taking in all this beautiful life has to offer are also very important to me. I also enjoy creating memorable experiences for the people that I love. I thought, what better way to combine so many things that bring me joy than to provide good food, and beautiful surroundings, in fun, intimate, and unique places. I've had over 20 years of experience in the industry and when the opportunity showed up, I did not think twice about using it. Read more>>
Todd Carter

I started photography late last year in 2021. It was on my 25th birthday when I was gifted a Polaroid one-touch camera from who was then my girlfriend. I also received another camera, a Fujifilm from my family around that same time. I remember I was so excited to try these cameras out and did just that the first chance I got. I began taking pictures of just about anything and I was terrible (haha). As time went on, I got better and better and photography became something of a great pass time for me. The truth is, I was just beginning to understand the power behind a photo(s). Read more>>
Kelly Anne Johns

From a young age, I have always loved making things. I learned to sew at the age of eight and never really stopped. As a result, I ended up getting a degree in Theatre with a concentration in Costume Construction from George Mason University. There, I joined Alpha Psi Omega, the Theatre Honor Society. It all started when there was a timeline issue with our normal Greek letter vendor that would have resulted in the new class not receiving their letters in time for initiation. Read more>>
Leximoniquue

Hi, my name is Leximoniquue and I'm from Johnston County. Growing up, I was always taught the value of hard work. With that instilled in me, it has molded me into the person I am today. A year ago, I was going through some things in my life and I needed a change. I moved to Raleigh and shortly after that, I took a trip to the beach. In reviewing my photos, I saw more than my image… I saw my gift. Read more>>
Gail Jennings

I love the look on the face of my customers when they taste King's Pepper for the first time. I'm reminded of how I felt when that bold, spicy flavor first hit my tongue. It was more than 30 years ago, in my hometown of Los Angeles, but I remember vividly the fragrance, the flavors melding together, and the lingering heat from the blend of fiery herbs and spices.  At the time, I was married to a man from Nigeria, and a friend of his brought some back from their hometown. Read more>>
Kathy Street

My name is Kathy Street and I am the chair of the Wake Forest Guild of Artists, the visual arts group under the umbrella of ARTS Wake Forest. I have the honor of leading an art guild consisting of 83 artists and artisans, working with our steering committee and the community to provide selling opportunities and educational opportunities to our members. I entered the art world after retiring from a career in Information Technology and project management. Read more>>
Rhonda Cozart

Hi, I am Rhonda Cozart, the founder of Jewels Outreach & Networking, Inc. Jewels is a local nonprofit located in Durham, NC. I'm also the owner of Jewels Vintage Boutique, LLC. I consider myself creative and humanitarian. I love advocating for those who can't advocate for themselves. I am very involved in my community. I started Jewels Outreach & Networking, Inc in 2016. Our mission is to advocate for those who can't advocate for themselves and be a voice for the voiceless. Read more>>
Aly Amos

I have personally always been interested in becoming my own boss, I used to draw myself as a CEO of a big corporation when growing up in my earlier years. Even as a child, I knew that I wanted to be the boss of my own life. I began esthetics school in 2017 but didn't complete the course due to life challenges. I didn't let that stop me though. I continued to do my own research by reading books and speaking with professionals in the esthetics industry. Read more>>
Elijah Smith

When I was in high school, I always wanted to create my own clothes, but I knew how to go about starting them. I was always into streetwear and fashion in general so people would always wonder if I had a brand or was going to start one. To fast forward a little, my freshman year of college we got sent home due to the covid 19 outbreak and for a while, I was doing nothing but sitting at home so I thought why not capitalize on the downtime. So I decided to start my creative company called Set Studios. Read more>>
Alecia Wilmore

I was a little girl who loved baby dolls only to do their hair. I would draw hairstyles and then try to recreate them on my dolls. I went on all throughout middle and high school doing hair for my classmates, especially for Prom… when French rolls, barrel curls, pin curls, and waterfalls were popular. I took Cosmetology in high school but I failed the exam. I tried and tried multiple times, but still couldn't pass. So I just gave up and that was around 2001. But crazy thing, I didn't see it as a career. I saw myself in the law field.  Read more>>
Anna Jordan

I started AnnaBanana in 2018 as a simple Instagram page where I posted my handmade jewelry. Throughout high school, I honed my passion for creating clothing and jewelry. I was inspired to start selling officially when applying to college for business school. Since then, I have registered as an LLC and continuously changed my branding, products, and materials until AnnaBanana became what it is today. I now use polymer clay to create my pieces, along with high-quality metal accents and findings. Read more>>
Brevan Hampden

I was born in NYC, and my family relocated to Durham, NC when I was 3 years old. I come from a family of musicians, my mother is a Pianist, and my father and 2 older brothers are drummers. I grew up playing in the AME church my mother lead a choir. My middle brother attended NCCU for Jazz, and I started learning jazz around middle school by hanging out with him and his college friends. I also played in a funk band with him at that time. Read more>>
Heena Patel

Our print shop has been serving our community in the Triangle area and beyond for 30+ years. We thank our older customers who stayed with us and to all the customers who joined us along this 30+ year journey, we serve a vast variety of industries from heating and cooling, pest control, law firms, unions, food products, restaurants, natural beauty products, real estate, telecommunications, manufacturing, community colleges, political candidates, special needs and community theaters, construction, coin clubs, rehab centers, equine care, transportation, and medical facilities. Read more>>
Scott Conary

Carrboro Coffee Roasters is a premier small batch artisan roaster that has drawn international attention. Our success lies in an unwavering commitment to sourcing the finest coffee through our Farmer Direct Relationship program at origin, expertly roasting these beans, and delivering a premium product to wholesale accounts and coffee lovers throughout North Carolina and beyond. Read more>>
Jodi Ohl

I started dabbling in the art after a long hiatus in 2006 which was a year of much turmoil for me personally. Art became my way to self-heal and move forward in life. I was working as a bank manager for several years which was hectic and full of stress, so when I came home, I just found painting to be that sanctuary I so very much needed. In 2009, I started teaching art both in-person and online which widened my audience tremendously.  Read more>>
Shontel Wilkerson

It all began after I gave birth to my daughter, McKenzie. She had such thick, long hair and it was "natural". Being that I had relaxed hair, I had no clue what to do nor how to manage natural hair. I didn't want to hurt her or damage her hair so I began to research how to take care of natural hair. I eventually started to create my own concoctions and use them on her. After seeing what they did for her hair, I too became natural.  Read more>>
Angela Floyd

I've always loved the act of cooking and enjoy watching others' reactions as they devour the meals that I've prepared. I grew up on country cooking, cookouts, family reunions, and fish fry. My parents cooked huge meals and I pride myself on the fact that I took after them. Southern Eats by Angie was created in 2021 when I transformed a hobby into a business serving soul food with southern hospitality. Read more>>
Julian "BigTwin" Hoggard

Julian "BigTwin" Hoggard has a unique story of being an artist and designer. Like most artists, he started drawing and painting when he was a small child. When he became a preteen, he got interested in deconstructing garments out of his and his twin brother's closet. He engaged in bleaching and painting on clothing, exploring the possibilities of ideas. He then started making clothing and art for his middle school to high school friends, dealing mostly with fabric paint for expression and creation. From high school, Big Twin studied Sociology at Elizabeth City State University, earning a B.A. in the field. Read more>>
Gabrielle Sides

I started The Pathway To Motherhood due to the fact that I once was also a teen mom in high school. I am currently a mother of two teenage children. I've experienced the emotional trauma teen mothers go through to survive, and the psychological disarray they experience when they give birth to young ones without financial growth or stability. I was told by several others that I wouldn't graduate high school and also was looked down upon because I became a mother at a young age. Read more>>
Sarai Flores

With the loss of my only son, my world fell apart. My life changed forever and I had to make a decision for me, my first daughter, and my family, because I didn't want to feel guilty and depressed after his dead forever, I know that he wouldn't like to see me that way, he would have wanted me to move on. It's hard and I'm gonna miss him every day, but I had to move on. And I DID. A couple of months later, after he was dead, I received beautiful news that I was expecting my rainbow baby Lía Victoria. Read more>>
Ashleigh Dunston

I never wanted to be a lawyer. In fact, growing up, I wanted to be a doctor. That's why I attended Wake Forest University, but unfortunately (or fortunately) biology humbled me my first semester. After several years of trying to find my place and major, I finally settled on psychology. It wasn't until the second semester that I came to the realization that there were 3 things about myself that were true: 1) I like to talk; 2) I like to argue, and 3) I wanted to help people. This led to me accepting the fact that I was destined to be "just like my father" and become a lawyer. Read more>>
Francisco Castruita-Perez

Growing up as a child my father would take me to his lawncare worksites to help out as much as I could by picking up sticks, pine cones, and other small debris that a 6-year-old could handle. As I grew older, I started to manage more heavy equipment and learn how to actually maintain a yard. I grew fond of this work and by the time I was out of high school I had decided to start my own lawncare and landscaping small business. Read more>>
Kristin RIddick

Started out in the hair industry close to 20 years ago! I have held many hats, from a commission stylist to managing a salon to renting my own independent studio and now owning my own salon with a crew of 15 amazing stylists! I started my journey in my home state, Iowa. From there I met my husband of 12 years and moved to North Carolina. Over the past 17 years in NC I have steadily built a very loyal clientele. Always taking 1 step at a time to have full control of my growth. Life is very busy with running a salon and raising our 2 daughters but I would not change a thing! Having a husband who is always pushing me out of my comfort zone and showing me its ok to take risks has been a blessing. I can humbly say my road growing up "statistically" was a far reach to have this outcome. But with prayer, goals and hope anything is possible for anyone! Read more>>.
Marci Lew

During my 20's, I spent the decade backpacking through Asia and Africa, working lots of unusual jobs and coming home to the States (to Boston MA) in between to save up a little more money and head back out to new adventures. On one of my trips home to the States I tried out a yoga class in Boston, and felt so good afterwards that I thought 'more of this, please.' Following my travels abroad, I moved to Tampa Fl and worked as a primate keeper at the Tampa Zoo (Lowry Park), and began taking more yoga classes. I eventually got certified as a yoga teacher and began teaching some classes. Read more>>